#HeyFrancis | The more I photograph with people, the more I realize how special it is to have been selected to capture a moment in time that will never happen again; this opportunity was a true representation of that. On October 6 and 7, 2016 I had the pleasure of photographing 📷 the weddings 👫 (both Indian and Traditional, respectively) of Mauneal and Zhenli Shah.
[ I have to give a major shoutout to my Brother Ashir for making it all happen; thanks Bro! 🙌 ]
What made things even more special was the fact that I had the chance to bring together and collaborate with a really close group friends and creatives: Christian Adkins (photographer), Ryan Butron (DJ), Miguel De La Rosa (videographer), and Sarah Jackson (make-up artist). I'd like to thank them all so much, you guys are the best! If not for them, capturing and curating all of these beautiful moments wouldn't have been possible. Make sure to check out the recap video curated by Miguel at the bottom of this post! Here's a breakdown of Wedding Day 1.
This was my first time shooting an Indian Wedding, and what a day we had ahead of us! The gang and I arrived early at the Iskcon Temple in Laguna Beach 🌴 just as the sun was reaching its highest point in the sky. As we entered, the vibe was quite somber as members of the temple began setting things us. This quiet time was a great opportunity for us to grab some really nice establishing shots and set up the shot lists for the day.
Guests, dressed in extravagant and traditional Indian attire, started arriving shortly thereafter and one could feel the energy ✨ of the space growing with each and every hug and greeting; today was going to be a great day! After snapping a few shots and connecting with the members of each family, we began to hear a ruckus outside; the Bride had finally arrived!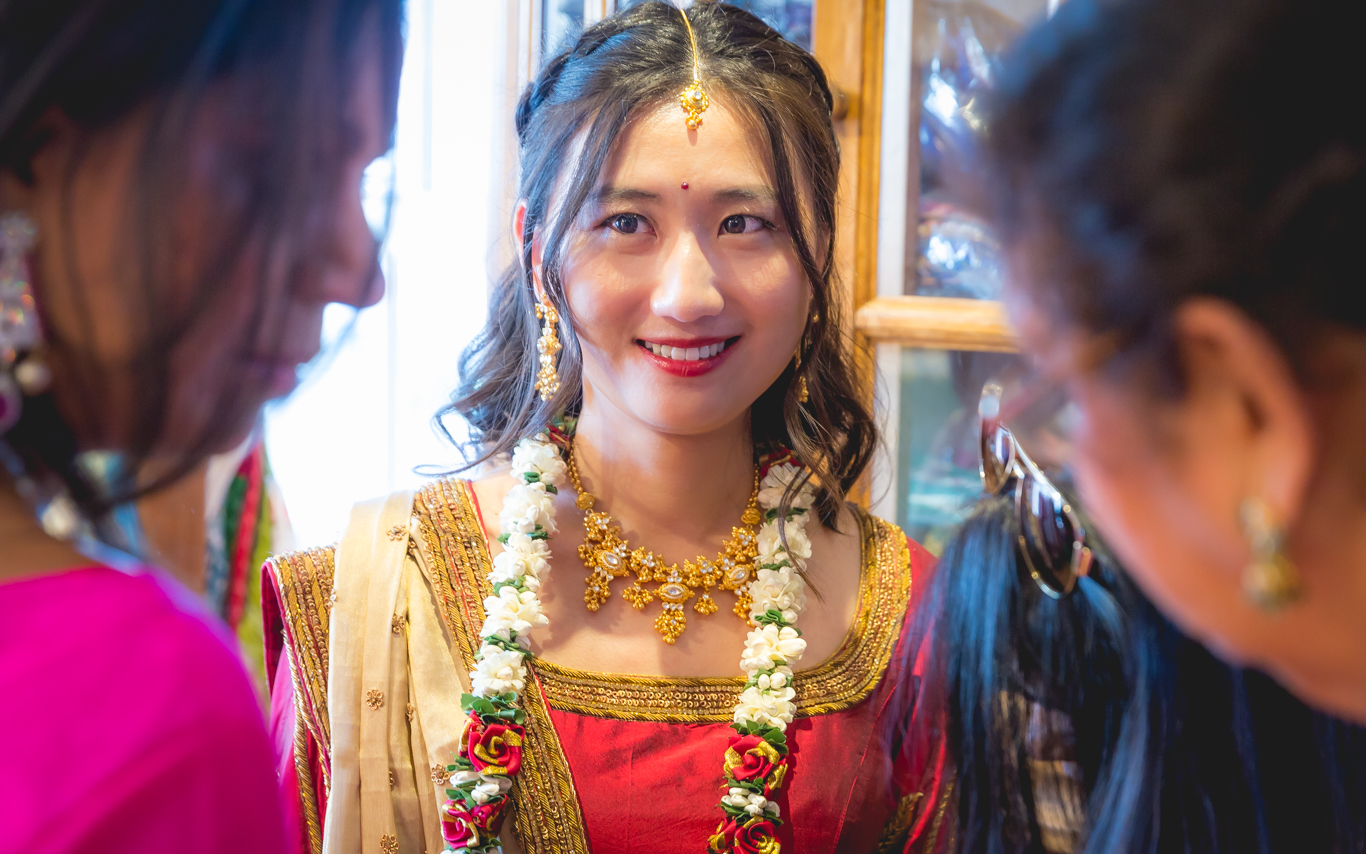 When the car pulled up, all I could say was, "Wow!" Zhenli stepped out in a beautiful, bright red Lahenga trimmed and accented in Gold. With a keen smile ☺️, she moved slowly and worked her way towards the temple as she was greeted with laughter, hugs, and smiles. After a few touch ups and attire adjustments (along with a few deeps breaths lol), it was finally time for Zhenli to see her Groom for the first time.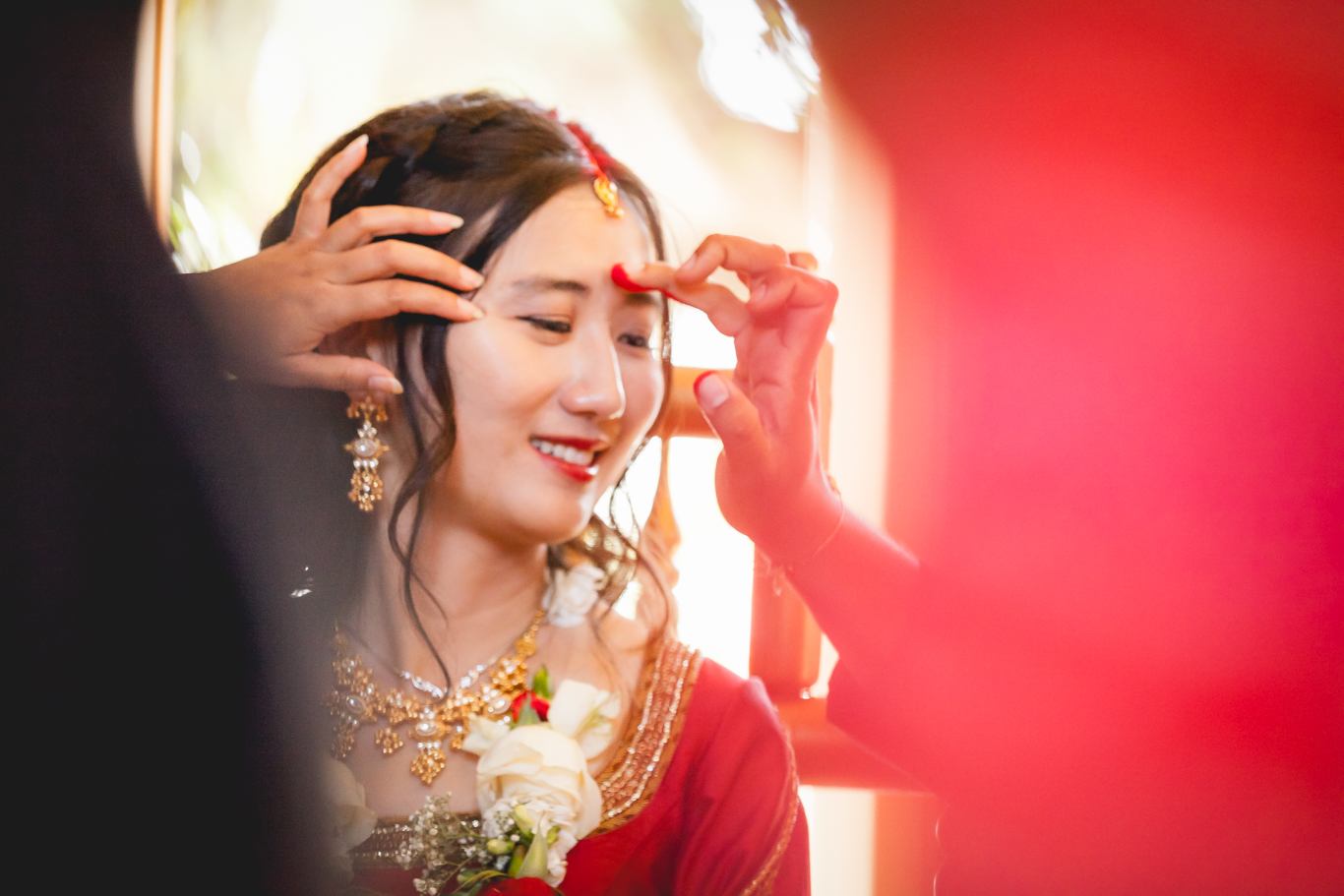 Words couldn't describe the look on Mauneal's face 😊 as Zhenli walked down the aisle hidden behind a near transparent red cloth. He looked so happy and so did Zhenli. After a few rotations around the ceremonial area, the beautiful couple came to a stop standing face to face; beautiful tensions was in the air. Following a brief introduction from the leader of Hindu Wedding Ceremony, the cloth was dropped as Mauneal and Zhenli tossed rice at each other. We learned that whoever tossed the rice first would take "lead" in the family (I think Zhenli won 😄 - check out the video below 👇 let us know in the comments who you think tossed the rice first).
From there, the leader of the ceremony guided Mauneal and Zhenli through a variety of Hindu Wedding traditions and brought the wedding to a close with a round of applause from everyone in attendance. It was such an awesome experience witnessing 😄 these traditions for the first time. After a few greetings of congratulations and photos with family and friends, it was finally time for some one-on-one time with the Bride and Groom.
It's so hard to express how much fun 🙌 it was photographing and working with Mauneal and Zhenli and their families. Their love for one another truly radiated from our time together and I'm so grateful to have had the pleasure to capture their special day. Be on the lookout of Mauneal + Zhenli: Wedding (Day 2) coming soon!
Congratulations again Mr. and Mrs. Shah! 🎉🎉🎉