#HeyFrancis | Reps, reps, reps! Immediately following a long day of shooting Mauneal & Zhenli's first (Indian) wedding (here's a link 👉 http://bit.ly/2dzck4V), it was time to begin working on the second. We learned so much as a team from the first day and were super excited to make some key adjustments headed into the second day of shooting. Growth is such a beautiful thing, and even more special when you can reflect and apply new knowledge right away; we were ready!
You would think we were tired from the busy night of shooting, yet the excitement for the day had us up early and ready to rock and roll. The morning started off with a smooth ride out to Anaheim where we were to meet up with the Bride and Groom. Sarah (@sarahjackson_mua) was already at work in applying her first round of make-up as Miguel and I made our way upstairs. One by one, the ladies entered and departed from the make-up chair ready for the day. Shortly thereafter, it was time to head out the venue.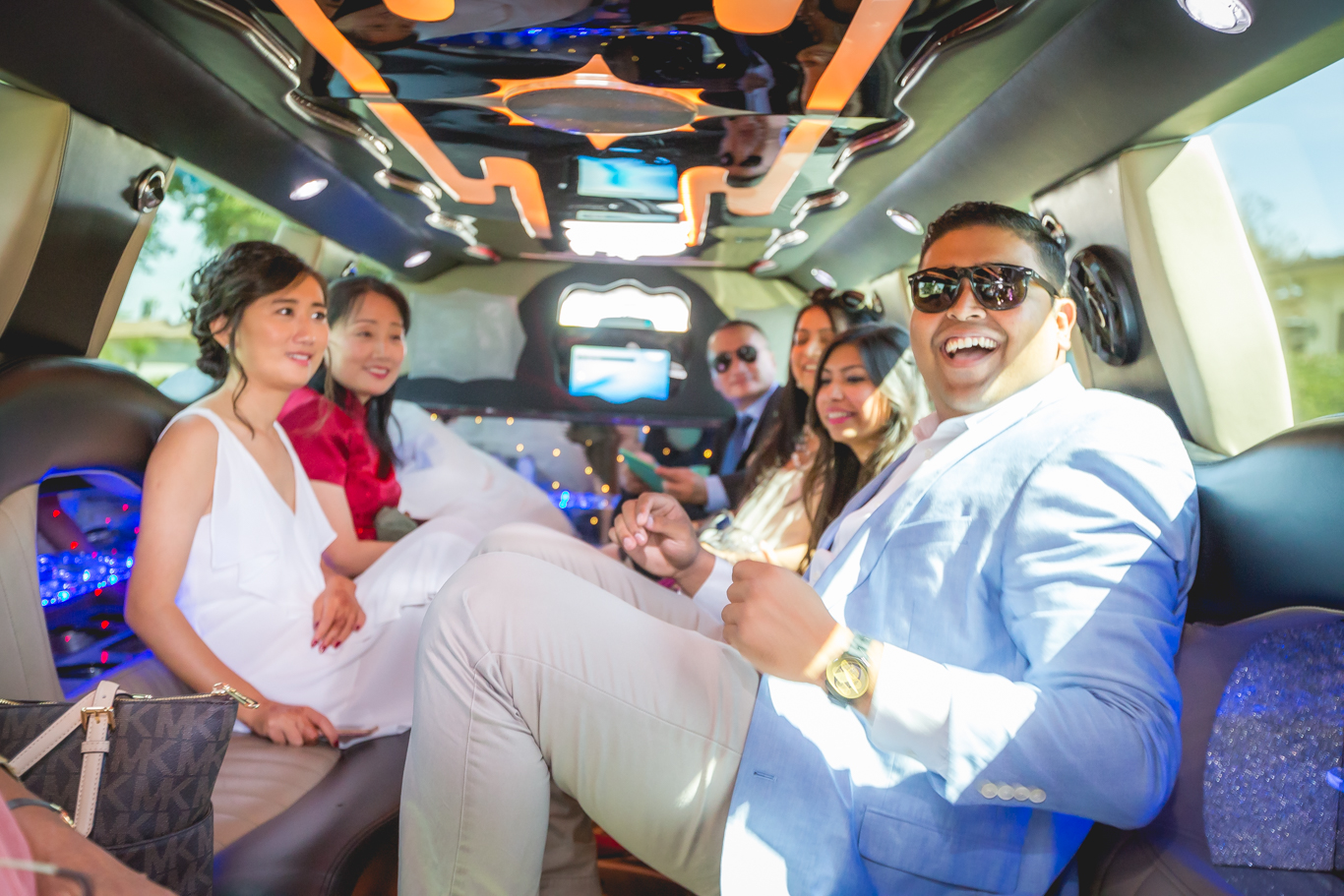 Following a brief Limo ride, we all arrived at the La Venta Inn in beautiful Palos Verdes, CA. And when I say beautiful, I mean, "B-E-A-UTIFUL!" I would like to thank Charla (the Office Manager at La Venta Inn) for all her help throughout the day. She was an ABSOLUTE pleasure to work with!
The limo unloaded person by person as the Bride and Groom made their way to their respective quarters not to see each other until their first-looks. The Bride and Bridesmaids headed off to a quaint little cottage that sat atop the hill with an extraordinary view of the Pacific Ocean (my favorite 😁 place to shoot). After taking some snaps 📷 utilizing the soft and natural light peeking in from the windows, it was time to capture the fellas. (By the way, peep the Bride's Dress and Shoes 😍 below)
As I walked over to the Men's cottage, I had a "Wait, hold that thought" moment as I halted at a stunning location for the rings to be shot. Standing before me was a wooden barrier that had light spilling on it through the leaves of the lush tree above. It was as if Mother Nature had set up a spotlight on this barrier just for me. Thanks Mother Nature 🙌 . After making a few in-camera adjustments, here's 👇 what I got.
At that moment, I then realized how much fun I was truly having. Chris was now working with the ladies, Ryan was off getting all of his DJ stuff knocked out (#GoDJ), Miguel was climbing in and around bushes to get all of the video pick-ups he was looking for, and Sarah was standing by ready and willing to help out if needed. Having such a great team working together made it easy for me to focus on what I needed to do as a photographer, and I'm so thankful for the team's professionalism and hustle; we were putting in work! Right after, I made my way down a set of stairs a met the fellas in their cottage. It was ducked off and shaded on the other side of the grounds setting up a few images that were more on the "cool 😎" (temperature) side. That was a photographers joke if you didn't get it 😉 .
Next thing you know it, it was already time for first-looks. Luckily Mauneal couldn't see very well without his glasses on as Zhenli made her way from the cottage (right past him lol) and over to the stunning white-stoned terrace that faced the ocean. Following a few pictures, the Bride and Groom parted ways again as the ceremony was about to begin.
One-by-one each couple from the Wedding Party made their way down the elegantly set aisle. A rush of emotion started filling the air as they knew the Bride was finally on her way. The music started playing and then came the tears (I even teared up a little bit 😪). Step-by-step, Zhenli's Father guided her daughter down the aisle. With a nod of the head and with an exchange of smiles, Zhenli's Father handed His Daughter over to Mauneal for the first time; the ceremony went silent. At that moment I thought, "It's so crazy to experience all of this through a camera lens." What a pleasure and honor it was being in a position to capture it all!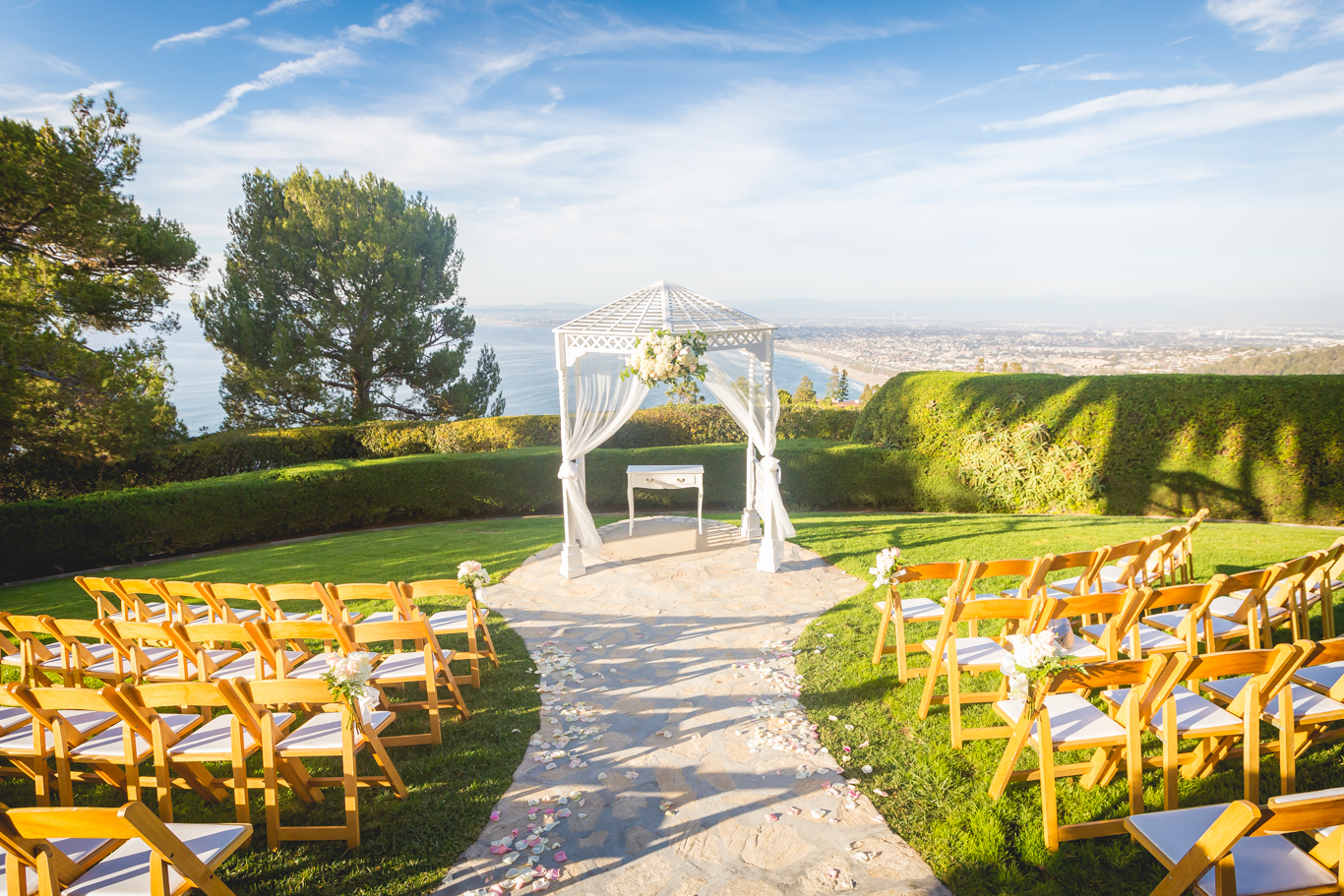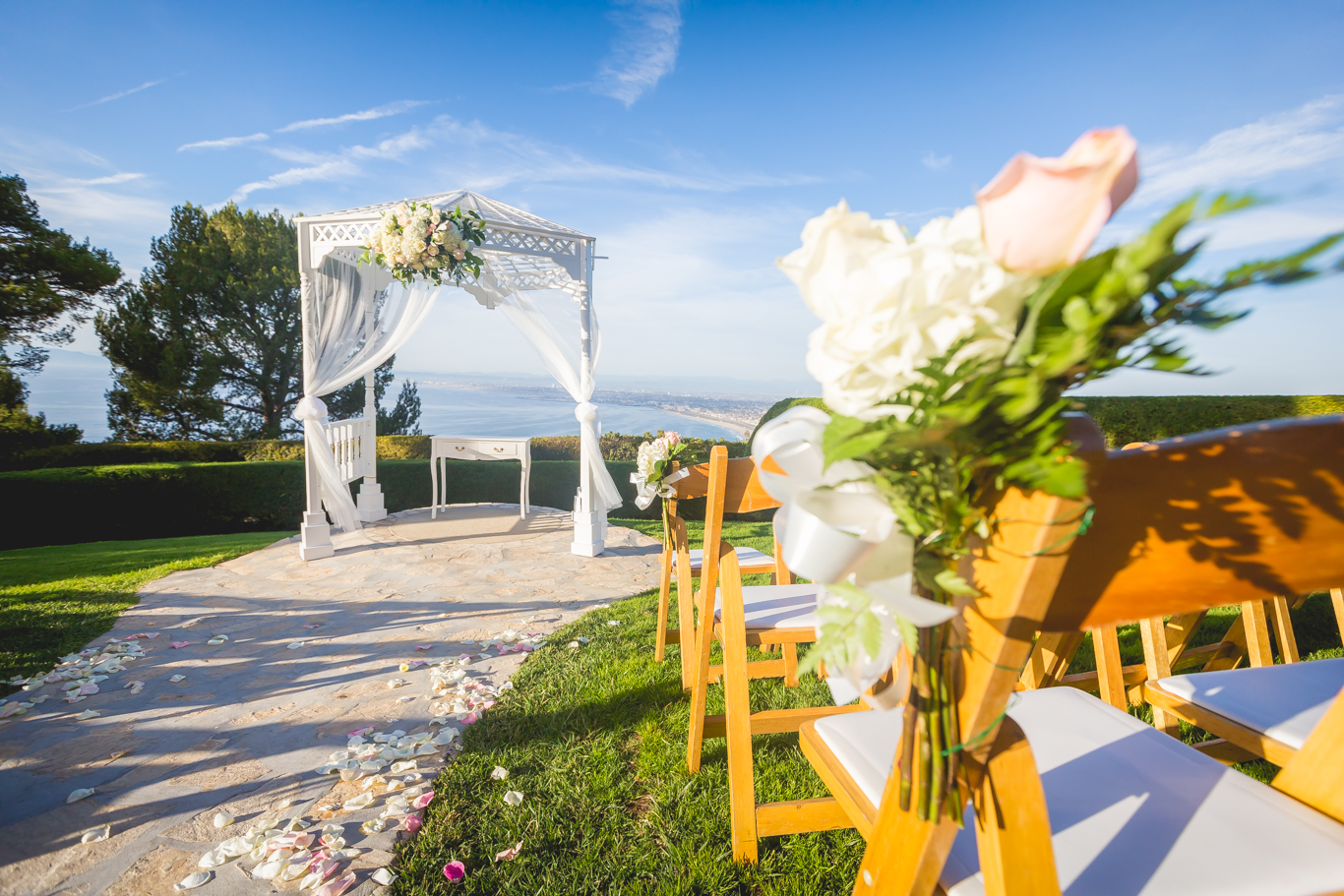 After an exchange of vows, a few laughs, and smiles between one another, the Marriage Officiant proudly presented, for the first time 💍, MR. and MRS. SHAH! 👫 With a roar of applause and cheers from everyone in attendance 🎉🎉🎉, Mauneal and Zhenli made their way back up the aisle and pulled everyone in together for group picture.
Following the ceremony, we had the chance to take the Wedding Party away from the crowd for a few moments to capture some stunning shots using the light from a gorgeous setting sun. I'm serious, you couldn't have asked for a more beautiful sunset. As we wrapped up on some shots, we could already tell the party was getting started ("as you hear the sound of popping bottles 🍷 and music 🎤 from the infamous DJ Bootr0n in the distance").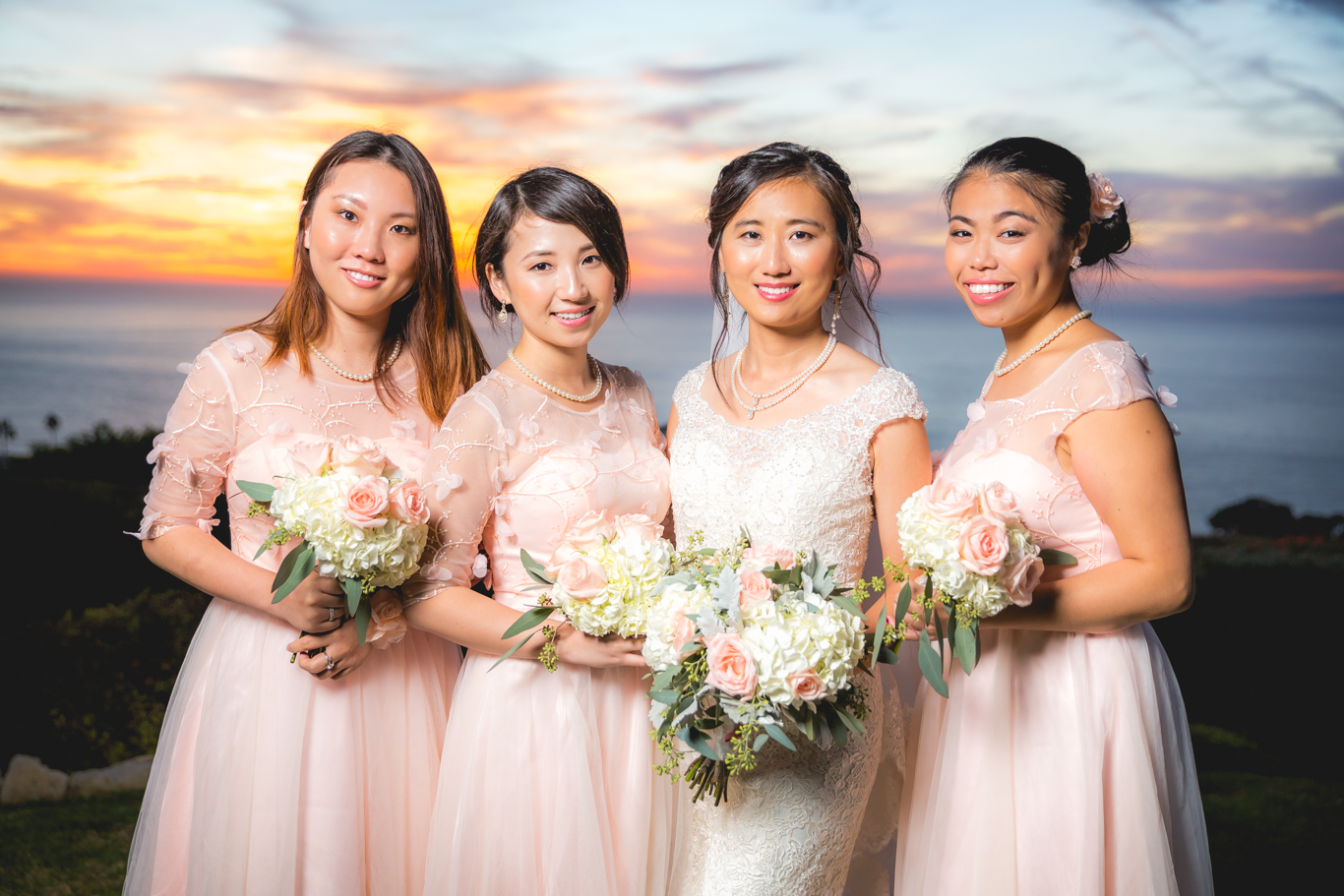 The time was finally here, it was "Reception Time"! The Wedding Party danced 💃🏻 their way into the room with a storming roar of applause and cheers as everyone awaited the arrival of the newly wedded couple. With microphone in hand, DJ Bootr0n introduced the newlyweds and even more cheers rang out; what a time to be alive! Following the Best Man and Maid Of Honor speeches, some tasty 😋 dinner, and cake 🎂 cutting, Mauneal and Zhenli took the floor and danced together for the first time.
It was such an honor given the opportunity to witness the union of this amazing couple 👦🏽👰🏻 ! I've always been my own worst critic, yet this experience really opened my eyes 👀 to how hard I've worked throughout the years to finally get to this point. My team and I had just finished capturing our second wedding in two days at one of the most fascinating wedding venues we had ever been to. Dreams come true, but they take time. All I can say is that if you set out clear goals and work towards them each and every day (even justtt a little bit 👌), you'll see them come alive right before your eyes. Congratulations 🙏 again to the happy couple, and thank YOU, the reader, so much for being a part of and following the journey.
Check out Miguel's video below 👇 for a full-video recap of the accounts of the day! Also, check out his blog here which highlights the events of both days. I'd love to hear from you! Please leave your COMMENTS and FEEDBACK in the section below! Be on the lookout for the next BLOG highlighting my 3rd wedding in 4 days (whoa!) coming soon! -MF